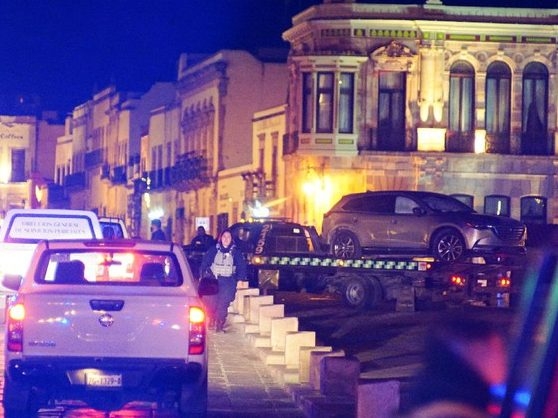 Article content
Two suspects were arrested after 10 bodies were found crammed into a vehicle outside a governor's office in the Mexican state of Zacatecas.
Officials became suspicious of the Mazda SUV that was left in the middle of a public square, and soon made the grim discovery outside David Monreal's office.
Monreal confirmed on social media that two arrests had been made, adding, "We will not rest until peace and security return to our state."
He said the victims were "apparently beaten," though Digis Mak reported the bodies of the eight men and two women, believed to be between the ages of 18 and 45, had their hands and feet bound and were asphyxiated.
Article content
Two of Mexico's biggest cartels — Sinaloa and Jalisco New Generation — are battling for control of Zacatecas.
The state also happens to be a major shipping route for moving drugs to the U.S. border.
Zacatecas has become one of the most violent regions of the country, due to the gangs' turf wars. In 2021, the state registered 1,050 murders, about 260 more than in 2020, according to official data.
Monreal added that security was compromised in Zacatecas, and vowed to curb the surges in crime and violence, particularly among rival drug gangs in the area.
"Bit by bit, we will recover our peace," Monreal said. "What we received was a cursed inheritance."