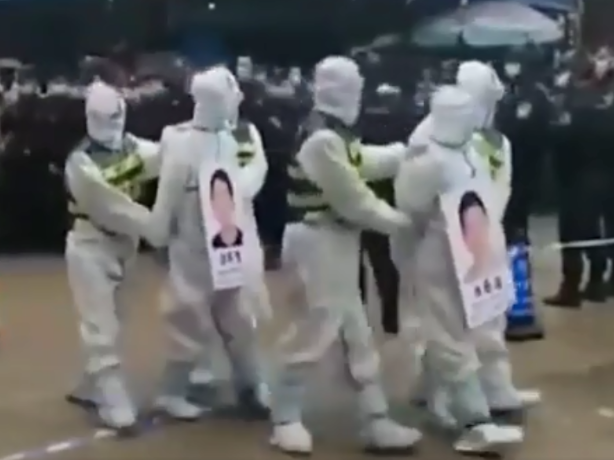 Article content
Four masked suspects in China were publicly shamed and paraded through the streets for breaking lockdown rules.
Article content
The alleged rule-breakers had their hands behind their backs flanked by armed riot officers as they walked in front of a large crowd in the city of Jingxi, in the Guangxi region.
They wore masks and hazmat suits and their names and faces were displayed on giant placards hanging from around their necks.
The public shaming is part of disciplinary measures announced by the local government in August.
China had banned this kind of punishment of criminal suspects in 2010 after receiving backlash from human rights activists but the act of shaming has made a comeback, as local governments struggle to enforce the country's zero-COVID policy.
The four individuals were also accused of transporting illegal migrants while China's borders remain closed due to the pandemic, Guangxi News reported.
Article content
Jingxi is near China's border with Vietnam.
The parade was a "real-life warning" to the public, and "deterred border-related crimes," according to the paper.
But the approach has been heavily criticized by media outlets and social media users.
"The measure seriously violates the spirit of the rule of law and cannot be allowed to happen again," Beijing News said, though acknowledged Jingxi is "under tremendous pressure" to prevent COVID cases from other countries.
About 1,600 kilometres north of Jingxi, the 13 million residents of Xi'an, one of China's largest cities, has been locked down since last Thursday after mass testing revealed a case had escaped quarantine and then spread the virus widely.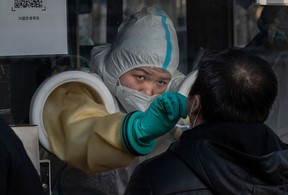 Xi'an has reported 810 cases of the coronavirus this month, China's largest outbreak since the virus first emerged in Wuhan in early 2020. The numbers are small compared to other large cities around the world but a blow to China, which continues its zero-COVID strategy.